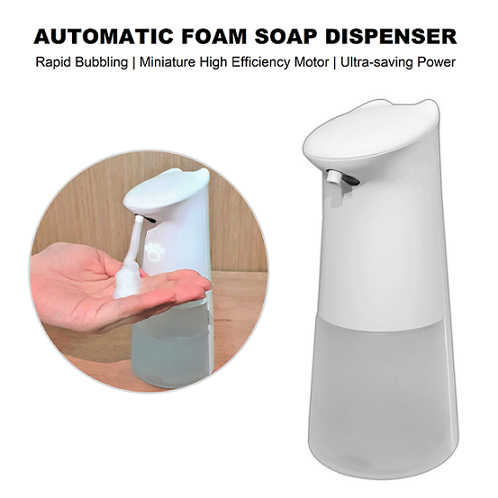 HUSKY 3030AFSD (Automatic Foam Soap Dispenser)
Product Code: 3030AFSD
Product Description: Automatic Foam Soap Dispenser
Dimension: 87 x 93 x 200 mm 
Net Weight: 240g 
Material: ABS Plastic 
Battery Type: 3x AA Batteries (not included) 
Sensing Distance: 5-7cm
FEATURES: 
ü Contactless with near-field infrared inductance; No contact, more hygienic  
ü Rapid bubbling in 0.25 seconds; Ultra-fast and convenient  
ü Miniature high efficiency motor; More quiet 
ü Ultra-saving power for long-term use 
ü On/Off press button 
ü Breathing light indicator; White light flashes when in use while red light flashes when it is turning off 
ü Wide bottle opening for easy refill 
NOTE: Battery and liquid are not included.
It is suitable for most foaming hand soap. For non-foaming soap / liquid soap, it has to be diluted before use. The recommended ratio of water to soap is 6: 1. Shake the bottle well before putting it into the dispenser.